Robar Civil has established Workplace Health and Safety processes intended to ensure the safety of our workers across our business.
The Management of ROBAR Civil will do everything reasonably practicable to ensure our people undertake work in a safe manner. Our employees and contractors play a crucial role in assisting us with achieving a safe workplace, and all of our people are accountable for safety in the workplace.
The objective of our Safety Policy is to ensure that:
We comply and demonstrate applicable compliance with ISO 45001:2018 (Occupational Health & Safety Management);
We ensure adequate hazard and risk management processes are applied across our business, and that we achieve a reduction of hazards to reduce health and safety risk;
We provide consultation and communication across our workforce, and we openly communicate about workplace health & safety issues; and
We are always striving to continuously improve our Integrated Management System to deliver best practice health and safety outcomes to our people, our clients and other stakeholders.
Visible leadership is essential for effective implementation of our Workplace Health and Safety program to systematically manage risks, opportunities and impacts.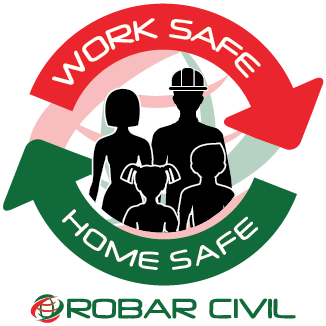 Everyone at Robar Civil is accountable for Health and Safety and the safety of our workforce is our highest priority. It is our expectation that our workers commit to working safely and collaboratively with each other.
We want our workers to WORK SAFE so they can go HOME SAFE.
This is achieved by:
Our workers taking care of their own safety, and the safety of others around them;
Being trained and competent to complete their tasks safely;
Ensuring that established Safe Work Method Statements are observed, and adhered to at all times;
Never acting in a way that places themselves or others at risk;
Calling out unsafe tasks or behaviour;
Stopping unsafe work by being empowered to exercise "Stop Work Authority";
Adhering to ROBAR Civil and Client Safety and Environmental procedures and rules;
Reporting all incidents, injuries, environmental harm and property damage; and
Wearing appropriate work clothing and Personal Protective Equipment (PPE) for each task.
In order to fulfill our responsibilities under the Duty of Care, Robar Civils aim is to ensure that:
Employees, contractors, and visitors are provided with a working environment that, as far as reasonably practicable, minimises the risk of work-related injury and illness,
The public and other stakeholders are not exposed to unacceptable risks as a consequence of our workplace activities and conduct.
Download the ROBAR Civil Safety Policy.